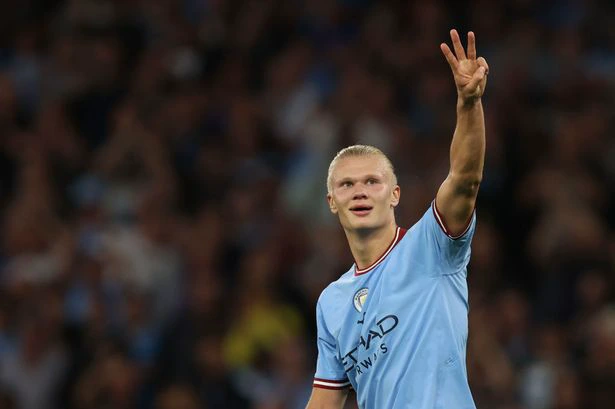 Haaland wants titles over records after second Man City hat-trick – Manchester Evening News"/>Never mind the fact that the British media are notorious at hyping their own players or players that play in their leagues but it is a fact that Erling Haaland has been sensational since joining Manchester City. What! He is the first player in the Premier League history to score a hattrick in three consecutive home games. Not even Ronaldo and Messi in their prime did that well and the lad is just 22 years old.
For a while the press began to compare Haaland with Kylian Mbappe but the Frechman was rated higher than the Norwegian but slowly Erling is changing that perception. Mbappe has scored 8 times in the French Ligue Un but his rival Erling Haaland has found the back of the net 14 times in the Premier League! In fact he is current the leading top scorer in Europe with his top rival, veteran striker Robert Lewandowski on just 9 goals in the Spanish La Liga. Erling Haaland did not just score a hattick against Manchester United but also provided the assists for two of Phil Foden's goals. The Norwegian therefore had a hand in 5 of Manchester City's six goals.
The fact is that the buzz about Erling Haaland did not start on his joining Manchester City. His numbers while on Borussia Dortmund were quite impressive but critics were sure he will find it hard to duplicate that form in the Premier League but if anything he may even surpass his Bundesliga numbers considering his current form.
It is a fact that Manchester United were abject against Man City but this was a team their previous four consecutive matches including matches against Liverpool and Arsenal. Besides as stated before Haaland already scored hattricks twice before (against Crystal Palace and Nottingham Forest). Interesting he has already equaled the hattrick records Ronaldo scored Manchester United across two spells! It took the Norwegian only eight games to do it!
There is no doubt that Manchester City were a great side before Haaland came but with his addition they are certainly much more lethal than they have ever been. The 22 years old Norwegian deserves all the buzz he is generating and his level-headedness means he will continue to push himself and achieve more. He is easily the best player in the world at the moment. His fans are hoping he will be consistent going forward particularly in the Champions League.