As it stands now, no striker under Pep Guardiola has a better goals per game record than Erling Haaland. The Norwegian striker who arrived Manchester city in the 2022 summer transfer window, has 22 goals in 15 games under Pep Guardiola. Haaland has an average goals per game ratio of 1.47. Asides Haaland, the only player who is close to an average goals per game of 1 is Lionel Messi. However, the Argentine player is not a striker under Pep Guardiola but was one of the best forwards under the Spanish manager. Messi averages 0.96 goal per game as he scored 211 goals in 219 games under Guardiola.
However, Samuel Eto'o and Sergio Aguero are another two strikers who have a good goals per game ratio under Guarduola. Samuel Eto'o played under the Spaniard at Barcelona and he scored 36 goals in 52 games. While Sergio Aguero spent quality time with Guardiola at Manchester city. The Argentine striker scored 124 goals in 182 games before he left for Barcelona, were he retired because of health issue.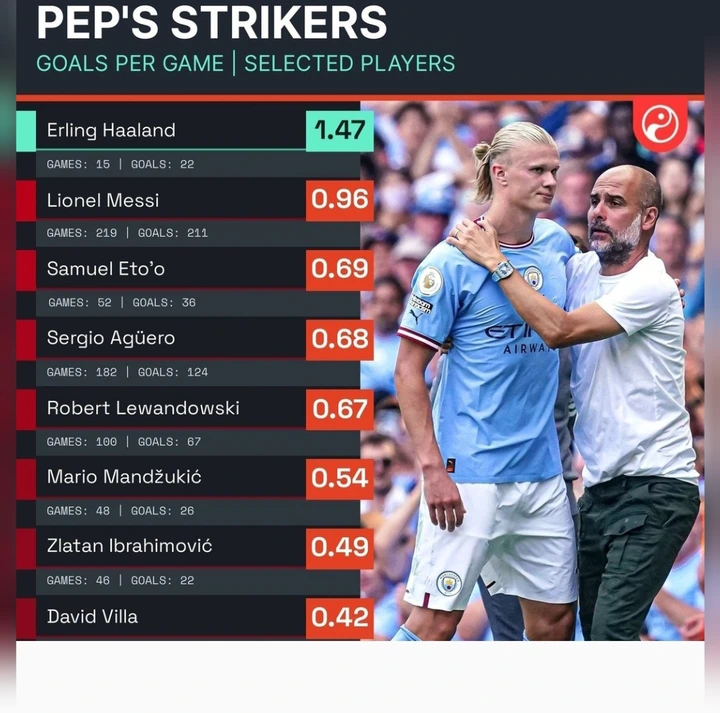 Other strikers who were included in the list include David Villa, Zlatan Ibrahimovic, Mario Mandzukic and Robert Lewandowski. There is a possibility that Haaland's figures might drop as he plays more games. However, the Norwegian striker is already proving to the whole world while he is the best striker in the world.