There were lots of action in the Premier League last weekend and there were lots of drama amongst the top teams as well. There were a few change in points amongst the top 6 but not a lot of changes in position though.
In this article I will show you how the premier league table looks like after at least ten games already. Below is the premier league top 6 currently.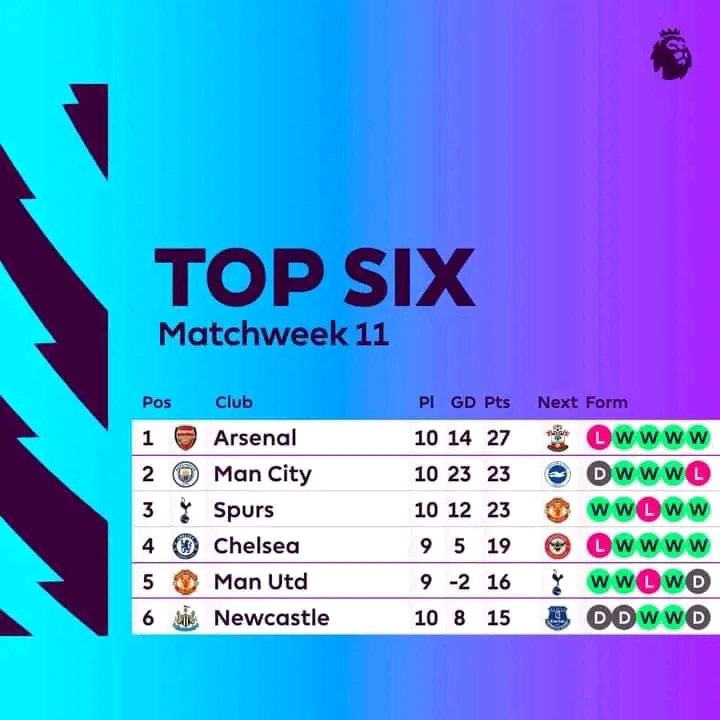 Arsenal narrowly won their game yesterday 1-0 against Leeds United keeping them at the top of the table, and four points above second place Manchester City who lost to Liverpool yesterday at Anfield.
Spurs are still third behind City, and they are on thesame point with the Champions.
Chelsea are in fourth after winning Aston Villa yesterday at Villa Park, and they have 19 Points from 9 games meaning that they are a game behind Spurs, Manchester City and Arsenal.
Manchester played a goalless draw with Newcastle United yesterday and they are in fifth position with one point ahead of their yesterday's opponents, Newcastle United who are in 6th with a game ahead of United.
What do you have to say about the top six so far? Kindly leave your comments in the comment section below.